Copyright © 2006-2019 Redfeathers Irish Setters - All Rights Reserved

This site is designed and maintained by Redfeathers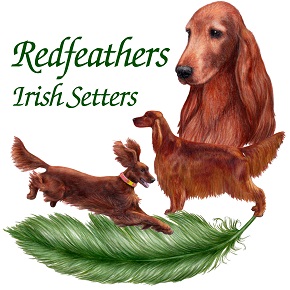 These are some of my favorite dog products.  Over the years I have tried out a lot of different products, most of which were not worth what I paid for them.  These products have stood the test of time here at Redfeathers.

Great Stress and Boredom Reliever

When it comes to beds, you definitely get what you pay for.  My dogs love these dog beds!  They are 4 inches thick of quality memory foam with a waterproof cover under the microsuede cover.  They come in many colors and sizes, plus with and without a headrest.  The one in the picture has a headrest.

Ava on one of the memory foam beds

I'll admit I just discovered this rather unique product.  The dogs took to them immediately, especially Bridget, who likes to lick everything!

So far I've only tried spreading canned food and bananas on them.  It keeps them busy for about 20 minutes.

I take them to agility trials and let the girls work on them inbetween runs.  It definitely helps with the boredom of waiting for their next turn to run.

The favorite is definitely the green one, so I rotate who gets which one.

Dusty on one of the memory foam beds

The LickiMats are also available from our favorite online store