Latest Redfeathers News & Brags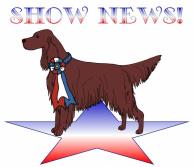 June 2021

Winx was Winners Bitch for 2 points, then for a 4 point major the following day.  Not a bad start on her championship!

June 14, 2021

Ava and Winx competed at the Irish Setter Club of America National Specialty agility trial in Maryland.  Winx won the Novice FAST class and the Novice Jumpers class, she really seemed to enjoy herself.  Ava won the Preferred Masters Standard and Jumpers classes and was High in Trial.  Way to go girls!

April 2021

Ava received a first round invitation to compete in the very prestigous AKC Agility Premier Cup to be held in Ocala, Florida on May 15, 2021.  Only the top 60 agility dogs in the country received these invitations.  I am so proud of Ava!

Rosie went Best of Breed twice more and finished her Breed Championship! I'm so proud of this girl!

Copyright © 2006-2021 Redfeathers Irish Setters - All Rights Reserved

This site is designed and maintained by Redfeathers

March 26-28, 2021

Ava went to the AKC National Agility Championship in Tulsa, Oklahoma.  She was nothing short of amazing, ran clean in all 3 runs, ended up ranked #3 cumulative at the end of the regular competition and made it to the Finals!  She had a really nice run in the Finals and ended up placing second!  I'm so proud of Ava!

March 12, 2021

Winx went to her first agility competition today.  We drove up to Peoria for their Agility Course Tests (ACT).  Winx was nothing short of awesome, she ran 6 times, qualified all 6 times and earned 3 titles!  Way to go baby girl!

January 26, 2021

Dusty's puppies finally arrived!!  Surprisingly there were 3 puppies, 1 male and 2 females.  Everyone is doing great.

December 23, 2020

Dusty had her ultrasound and she is definitely pregnant!  Puppies are due January 23, 2021.

December 11-13, 2020

Ava and I made the trip to Orlando, Florida to compete in the AKC Agility Invitational as the #1 Irish Setter in Preferred.  Ava won the Time 2 Beat class on Friday!  She ended up with 3 clean runs out of 4 the other 2 days and she was ranked #15 cumulative in the 24 inch class.  I am so proud of Ava!  She had a great time, barking throughout all her runs!

November 15, 2020

Bridget officially retired from agility.  She enjoyed one last agility run with everyone clapping and cheering her on the entire time.  Afterwards she enjoyed her party with all the attention she loves.  Unfortunately, due to COVID, we were not able to invite anyone not entered at the trial and all the food had to be individually packaged.  That changed things from my original retirement party plans, but I doubt that Bridget noticed.  Bridget has been an amazing agility partner and she has definitely taken me on the journey of a lifetime.  Since Bridget turned 12 years old on December 4, 2020, it is time for her to retire from agility and try some less strenuous dog sports.

September 13, 2020

Ava earned her PACH2!!  Way to go girl!

July 2020

Ava's son, Briar, finished his Breed Championship!  Way to go team Briar!!  Briar lives in Michigan with his owner, Judy.

February 2020

Rosie earned 2 majors and went Best of Breed both times!  Way to go girl!

February 8, 2020

Ava competed at the Masters Agility Championship at Westminster and earned a second place in Jumpers.  Then she got to run in the finals that was on national TV and ended up with third place!  What an amazing time that was!!

January 2020

The end of the year results are in and Ava is the #1 Irish Setter running in Preferred agility for the calendar year 2019.  Bridget is the #2 Irish Setter running in Preferred agility!  Only 31 points separated my 2 girls!  Way to go girls!

Tango - 10-1/2 years old - August 2013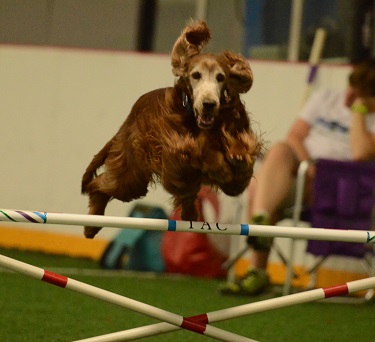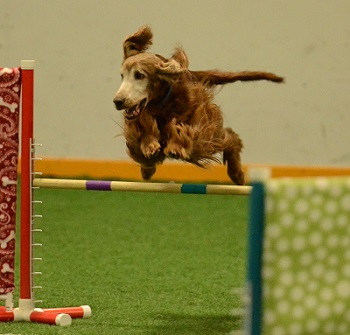 Tango - 10-1/2 years old - August 2013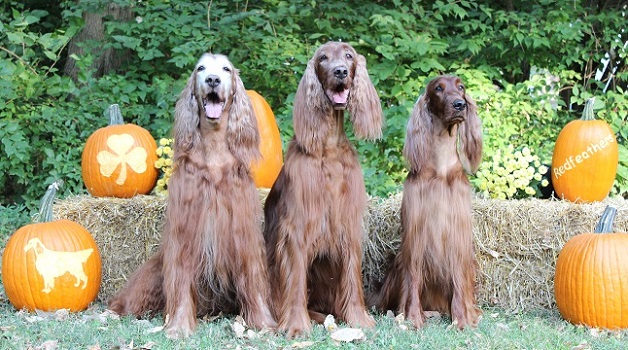 Tango with her daughters Bridget and Ava - October 2016