Redfeathers Irish Setters - Lady's page

Lady - 2 years old - May 1981

Lady - 10-1/2 years old - August 1989

Shangrila Autumn Harvest CD CGC - "Lady"

March 22- 1979 - December 1, 1992

(Tara Hill Harvest Moon x Milesian's Merry Maura)

Lady came to me as a 2 year old from her breeder Lynne Mehring (Shangrila Irish Setters), and will always be the matriarch of the kennel.  She was a Sweepstakes winner, pointed in the breed ring and earned her CD title in October 1991 at the age of 12-1/2 years!  Lady had a beautiful, classic old-style headpiece.  I'll always remember Lady through her children and grandchildren, and be forever grateful for all she gave me and taught me.  She was with me for almost 14 years and was always, always a "lady."  Through her, I look forward to the future generations here at Redfeathers.

Health Clearances:  Hips OFA Good and PRA genetically clear

I am extremely proud of Lady's champion and titled kids...

Sired by CH Dunholm Clancey of Durin

CH Redfeathers Whiskey River

Redfeathers Blue Skies CD

Redfeathers Stardust CD

CH Shangrila Kiss Me Kate (she also produced 6 champions)

Sired by CH Shangrila Stargazer

CH Redfeathers Eaturheartout CD CGC

Sired by CH Seregon Second Edition ROM

CH Redfeathers Marina Del Rey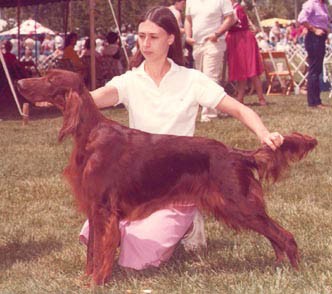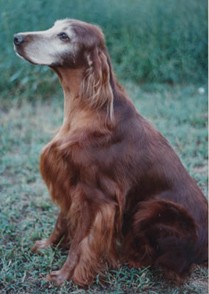 Copyright © 2006-2021 Redfeathers Irish Setters - All Rights Reserved

This site is designed and maintained by Redfeathers