Redfeathers Irish Setters - Gypsy's page

Gypsy - 7 years old - October 2003

Gypsy - 7 years old - October 2003

Redfeathers Windbrook Gypsy CD RN NA NAJ OAP OJP - "Gypsy"

July 8, 1996 - December 13, 2012

(CH Pin Oak U S Grant x CH Redfeathers Marina Del Rey)

Gypsy was not called Gypsy in the beginning.  She had another name, but it escapes me now.  It never really suited her.  She was born during the time I was selling jewelry at the dog shows and going to over 100 shows a year.  Gypsy started traveling with me when she was only 8 weeks old, and one late night as we were in the process of driving across several states, it hit me, we were a couple of gypsies.  She'd been in and through 17 states before she was 6 months old, many of them more than once.  So Gypsy it was.

Gypsy - what can I say?  Her ever present personality was a combination of her mother Marina and grandmother Lady.  She was shown at several Specialties as a puppy and had some nice class wins, then Gypsy took a back seat to the PBGV's at the shows and was seldom shown.  It seemed like just a blink of an eye and suddenly Gypsy was 6 years old.  Gypsy finally got her turn to shine at the shows and had 13 points, including a 4 point major (at a supported entry).  It is one of my biggest regrets that I did not show her earlier so she could have finished her breed championship.

Gypsy and I went through 7 household moves in 3 states together.  It was quite a journey.  I wouldn't have traded one day with her for anything.  To me, for me, she was perfect.  It was a privilege that she shared her entire life with me.  My heart is broken, our journey is over.  Even though I was fortunate enough to have her in my life for almost 16-1/2 years, it seems as though it went by in the blink of an eye.  I know she was mine for longer than anyone has the right to ask for, and I can tell you that it was not enough.  The house is so unbelievably empty…

Gently they go, the beautiful, the tender, the kind;

I know. But I do not approve. And I am not resigned.




from Edna St. Vincent Millay
Health Clearances: Hips OFA Good (at 5-1/2 years of age), DNA tested clear of PRA, Thyroid OFA Normal

and CHIC

I am extremely proud of Gypsy's champion, pointed and titled kids...

Sired by Redfeathers Brouhaha

CH Redfeathers Cloud Nine MX MXJ NAP NJP OF NFP CGC TKN

Japanese CH Redfeathers Heavenly Cloud

Redfeathers Floatin' On A Cloud - 13 points (1 major)

Redfeathers Dream Cloud - 12 points (1 major)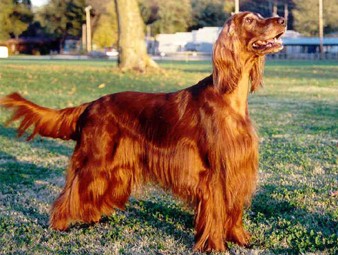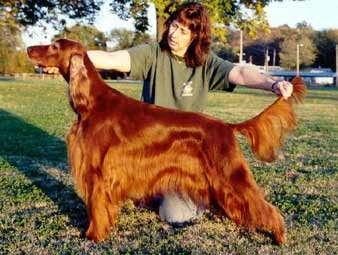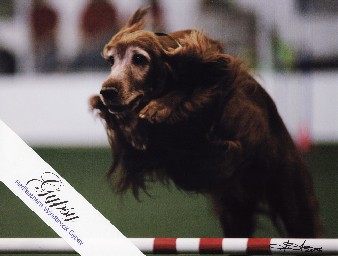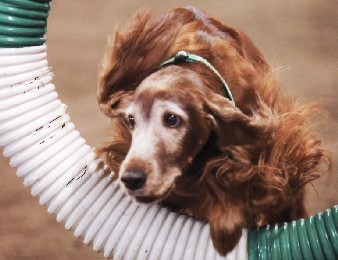 Gypsy - 11 years old - March 2007

Gypsy - 10 years old - July 2006

In March of 2005, at almost 9 years of age, Gypsy and I ventured into the Agility ring.  This was a first for both of us.  Prior to that first weekend in Agility, my goal was to get her Novice titles.  Well, Gypsy got both her Novice titles that very first weekend, including 2 perfect scores of 100.  That was it, we were both hooked!  Gypsy continued to compete in Agility at the local trials for the next 2 years, earning a total of 6 Agility titles.  This was accomplished by only practicing in classes for a few minutes once a week.  In March 2007, at the age of almost 11 years of age, I decided to retire Gypsy from Agility while she was still healthy and having fun.

A week later Gypsy earned her Rally Novice title and retired from all competition at 11 years of age.  Turned out Gypsy was not happy being retired, so in January 2009 we began training in obedience, the goal being a CD title.  This was strictly a buckle collar and treats method of training.  In March 2009 Gypsy entered the obedience ring for the very first time (the last time I was in the obedience ring was over 20 years ago) and earned her first leg towards her CD.  Four shows later, in June 2009 at 13 years of age, Gypsy earned her CD title with a 4th and 2nd place along the way.  I am so very proud of her.  This dog did everything I ever asked of her, and did it well.  Gypsy wormed her way into my heart in a way that I swore would never happen again.  The legacy continues...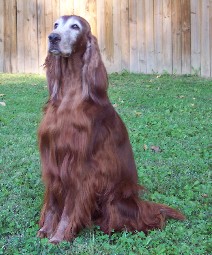 Gypsy - 12 years old - October 2008

Copyright © 2006-2021 Redfeathers Irish Setters - All Rights Reserved

This site is designed and maintained by Redfeathers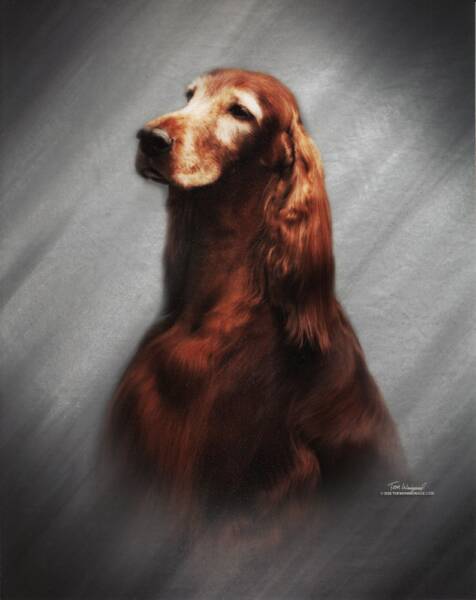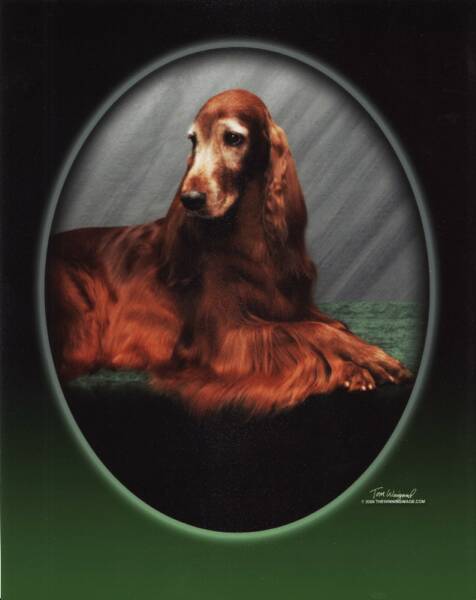 Gypsy - 10 years old - August 2006

Gypsy - 10 years old - August 2006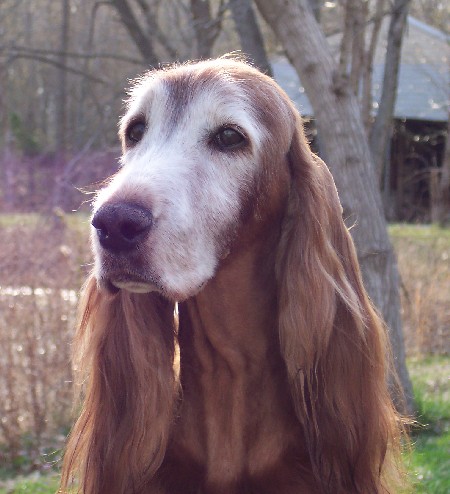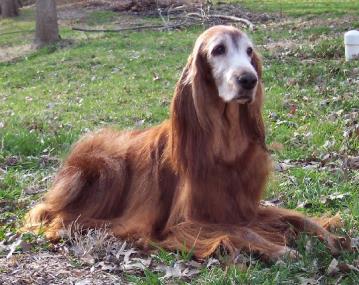 Gypsy - 14-1/2 years old - March 2011

Gypsy - 14-1/2 years old - March 2011