Thank you for visiting my web site!  Redfeathers began in 1976 with the purchase of my first dog, an Irish Setter named Pam, officially known as Red Feathers Dancing Fire Am. & Can. CDX.  Pam was the perfect first dog for me.  I had dreamed of an Irish Setter for years, fueled by memories of the movie "Big Red."

The Irish Setter is a Sporting dog with a "rollicking personality" according to the Official Standard for the breed.  They are typically Irish, with a devil-may-care something about them that makes them tremendously likeable.  Irish Setters are energetic, loyal, loving, intelligent, trainable, athletic dogs that are also extremely beautiful.  Artists have termed them the most beautiful of all dogs.  I couldn't agree more.

Redfeathers is located in southwestern Illinois, just across the mighty Mississippi from St. Louis, Missouri.  All of my dogs are beloved members of the family and live in the house with me, not in crates or kennels.  They are pets first, show dogs second.  They sleep in the bedroom, claim space on all the furniture (including the bed), and are a very important part of my life.  Irish Setters are definitely my life's passion.

"The Girls" in May 2017

Bridget, Lilly, Ava, Hope, Tango and Dusty

Agility - In 2005 I ventured into the agility ring for the very first time.  Gypsy was the first dog I trained in agility and earned agility titles with.  Currently Ava and Rosie are active in agility.  The sport of agility is very exciting and addicting, both for the dogs and the people.  It is absolutely the most fun I have had with my dogs, we love it!  The incredible bond that forms between a dog and handler through the countless hours of training, competing and traveling is difficult to put into words.  It is an amazing journey and the ultimate team sport.

In addition to training and competing with my own dogs, I teach agility classes and attend training seminars.  I also write the agility column, which I call Weave Tales, for the Irish Setter Club of America's publication, Memo to Members.  I wrote the column for six years, from 2010 through 2016, and started again in 2019.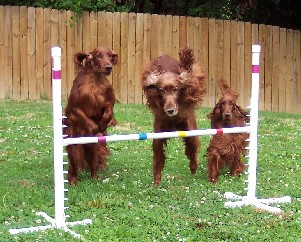 Sophie, Tango and Lilly - 2008

Copyright © 2006-2021 Redfeathers Irish Setters - All Rights Reserved

This site is designed and maintained by Redfeathers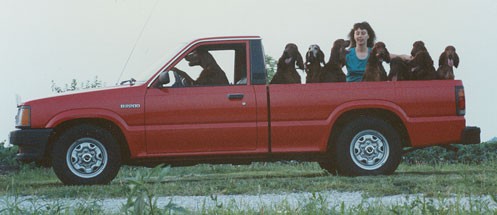 Pam driving with Wendy and 8 Irish Setters in the back - 1987

Tango with her daughters Sophie and Bridget - July 2012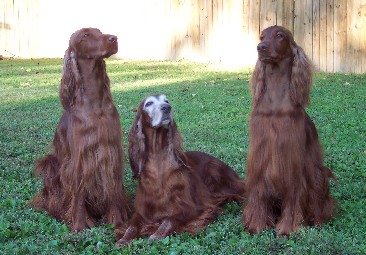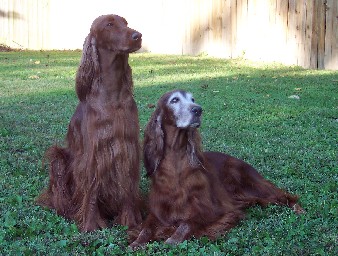 Lilly and her mother Gypsy - October 2008

Lilly and Breezy with their mother Gypsy (center) - October 2008

Each litter at Redfeathers is carefully planned.  Not every dog is bred, and not every dog should be bred.  I only plan a litter when I am ready for another dog, usually every couple of years.  Health is of the utmost importance to me and all dogs used for breeding have cleared all the health tests recommended by the Irish Setter Club of America.  Their health clearances can be found on the Orthopedic Foundation for Animals (OFA) website.  My goal is to produce quality, happy, healthy dogs with sweet temperaments that are intelligent and eager to please their people.

Redfeathers is proud and privileged to have wonderful show dogs and loving family pets in homes across the United States from California to New York, as well as Alaska, Hawaii, Canada and Japan.  Redfeathers bred Irish Setters have earned over 340 AKC titles in Agility, Obedience and Rally, as well as Breed and Agility Championships.

Puppies - All Redfeathers puppies are born in the house, usually the spare bedroom.  They continue to live in the house where I can easily keep an eye on them.  They are exposed to all the usual household noises; television, stereo, vacuum cleaners, telephones, etc., and handled multiple times each day.  Puppies are generally ready to start leaving for their new homes between 8 and 9 weeks of age.  A non-refundable deposit will be required to hold a puppy.  All puppies have had their dewclaws removed, have been de-wormed, have been given the necessary age appropriate vaccines, and are microchipped.  I will not ship a puppy, new owners can choose to either drive to my home or fly here to pick up their new puppy.

Please remember that a dog is for life and Irish Setters can and often do live to the age of 14 years or more.  All dogs are sold on the condition that if at any time you cannot keep them, they are returned to me.  I do not buy dogs back. 

You will be asked to sign a contract.

Bio-Sensor or Super Dog Program
- The U.S. Military developed a program in the 1970's called "Bio Sensor."  The basic premise of the program is that early neurological stimulation exercises could affect the performance of the dog.  The Army's research revealed that early stimulation of the puppy influence rapid neurological growth and development.  I incorporate the Bio-Sensor or Super Dog Program into my Irish Setter puppies socialization and temperament development. 
Click here
to learn more about this program.
Limited Registration - All puppies placed in pet homes are sold with an American Kennel Club Limited Registration certificate.  The American Kennel Club approved the Limited Registration certificate effective January 1, 1990.  The offspring of a dog registered with a Limited Registration certificate are not eligible for AKC registration.  A dog registered with an AKC Limited Registration certificate is not eligible to be entered in breed competition.  They are eligible, however, to be entered in any other event, such as Agility Trials, Obedience and Rally Trials, Tracking Tests, Hunt Tests and Junior Showmanship.  In addition, all puppies placed in pet homes must also be neutered at an appropriate age, usually between 18 months and 2 years of age.

Guarantee - Show quality puppies are guaranteed to pass OFA hip evaluation at two years of age, provided they have not yet been used for breeding.

Future Purchase - For any Redfeathers Irish Setter obtaining any of the following: a Breed Championship, an AX and AXJ in Agility, or a SH in Hunt Tests, the owner can purchase their next puppy from Redfeathers for half price.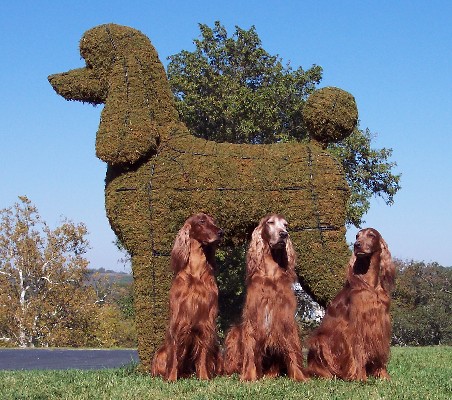 Sophie, Tango and Lilly - October 2010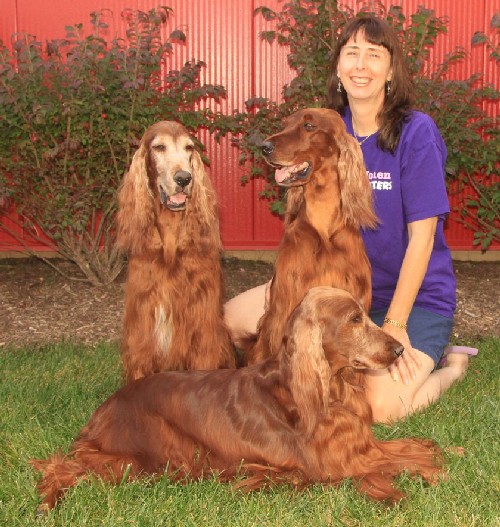 Wendy with Tango, Sophie and Lilly (in front)

October 2010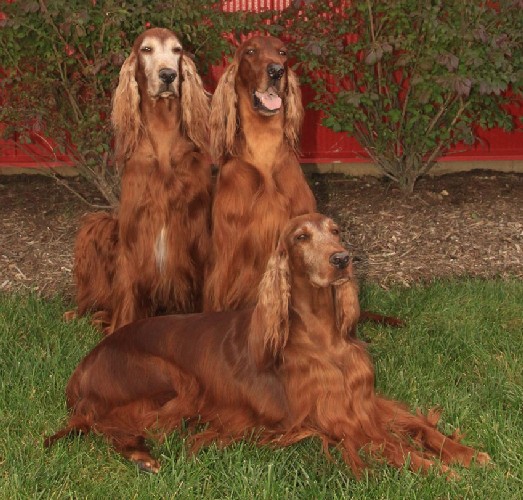 Tango, Sophie and Lilly (in front) - October 2010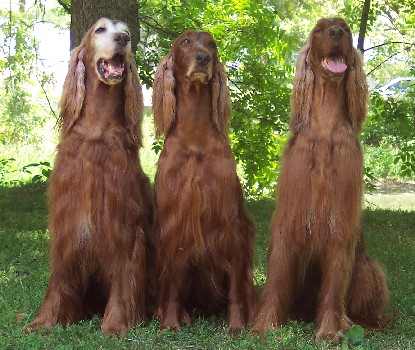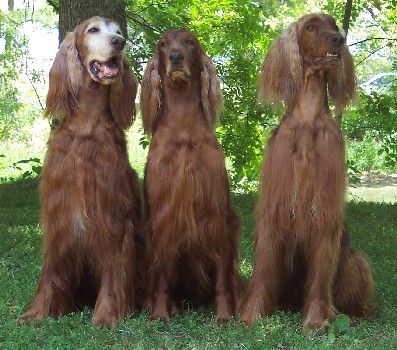 Tango with her daughters Sophie and Bridget - July 2012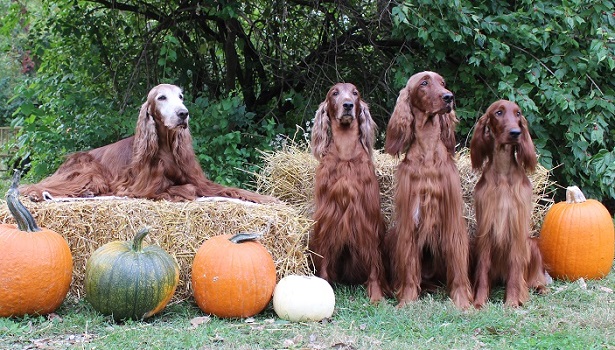 Tango with her daughters Sophie, Bridget and Ava - October 2014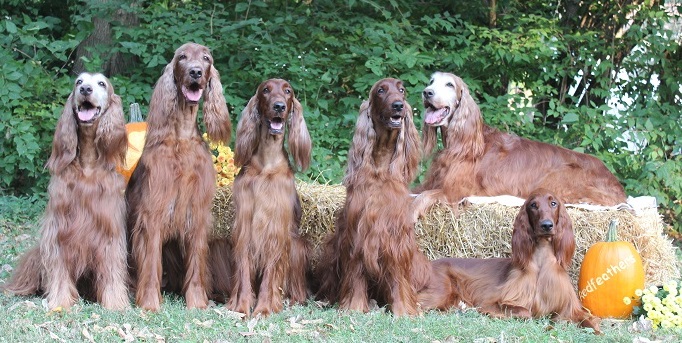 "The Girls" - Lilly, Bridget, Ava, Hope, Tango (on top of straw) and Dusty - October 2016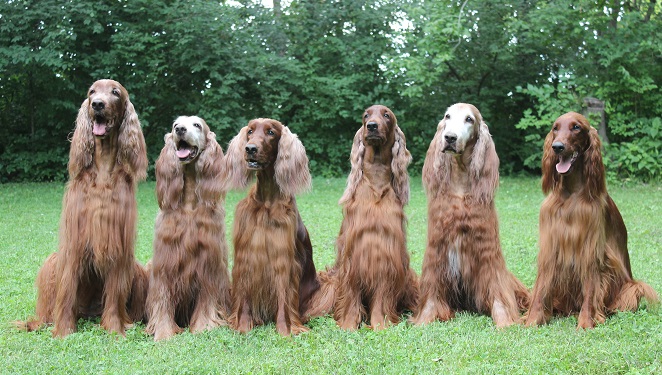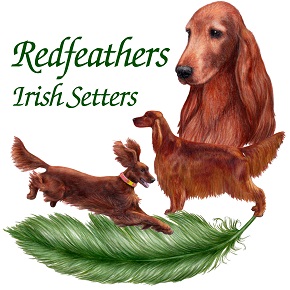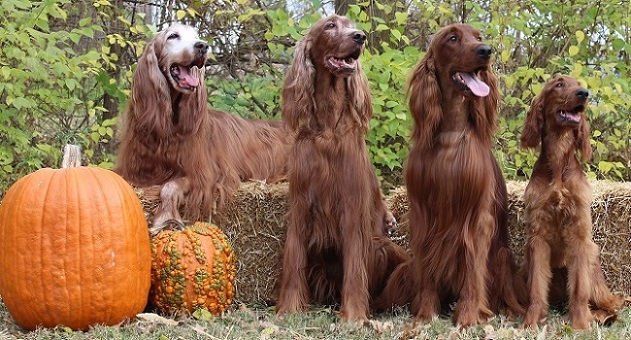 4 Generations of Redfeathers Irish Setters - December 2017

Tango, her daughter Bridget, Bridget's son Ranger, and Ranger's daughter Rosie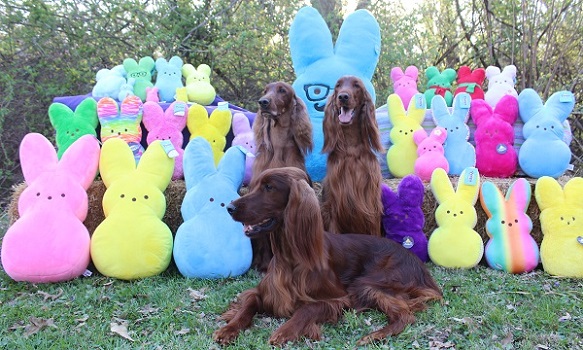 Ava, Rosie and Winx (in front) with the Peeps - April 2021