Redfeathers Puppies

Whelped January 26, 2021

(CH Stomar's Red Solo Cup BN RI AX OAJ XF CGC TKN - "Solo" x Redfeathers Kick The Dust Up RATN - "Dusty")

This is Dusty's first litter.  This much anticipated litter consists of 3 puppies, 1 male and 2 females.  Dusty is a beautiful bitch with a gorgeous head and is one of the sweetest dogs to share my life.  Solo is a sweet and beautiful young dog with a beautiful pedigree.  I have some very high hopes for these puppies in both the agility and breed rings.

Both Dusty and Solo have all their health clearances.  These puppies should be super sweet, intelligent and beautiful!

In the pictures and videos, the 2 females have the yellow and pink collars.  The male has no collar.

Copyright © 2006-2021 Redfeathers Irish Setters - All Rights Reserved

This site is designed and maintained by Redfeathers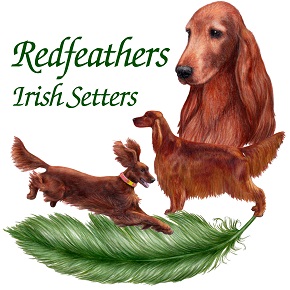 Pink female, Yellow female and Male puppy - February 16, 2021 - 3 weeks old

Happy Mardi Gras!

Male puppy - February 25, 2021 - 4 weeks old

Yellow female puppy - February 9, 2021 - 2 weeks old