Redfeathers Irish Setters - Breezy's page

Redfeathers Floatin' On A Cloud - "Breezy"

May 27, 2004 - February 18, 2015

(Redfeathers Brouhaha x Redfeathers Windbrook Gypsy CD RN NA NAJ OAP OJP)

Breezy was a very sweet girl, a beautiful combination of both her parents.  She was shown sparingly and earned 13 points, including a major.  She also got a Group 4 and a Group 2 from the bred-by class.  Her side gait was gorgeous!  Breezy's all-time favorite toy was "Pineapple Man".  Breezy whelped her one and only litter, 4 puppies, on May 10, 2010.  Of course one of the girls stayed here, Hope.

Breezy was a quiet, gentle soul and probably the least demanding dog I've ever shared my life with.  May the Rainbow Bridge have lots of "Pineapple Men" for you to play with.  Until we meet again...

Health Clearances:  Hips OFA'd and PRA genetically clear

I am extremely proud of Breezy's Champion and titled kids...

Sired by GCH CH Belvedere's Mayflower

CH Belvedere's Bless America of Redfeathers

PACH Redfeathers Priceless FDC MXP4 MXPB MJP5 MJPS PAX NFP RATI - 7 points

MACH Redfeathers Regardless MXS MJB RATN TKN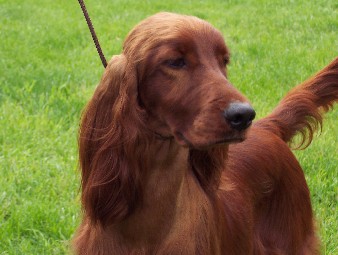 Breezy - 2 years old - May 2006

Breezy - 4 years old - October 2008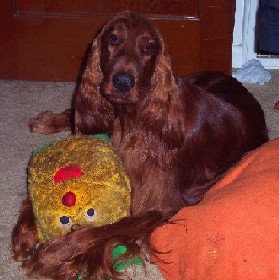 Breezy with her favorite toy "Pineapple Man"

2 years old - July 2006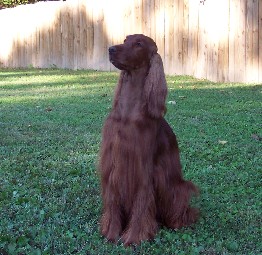 Copyright © 2006-2021 Redfeathers Irish Setters - All Rights Reserved

This site is designed and maintained by Redfeathers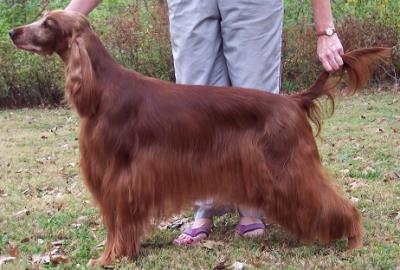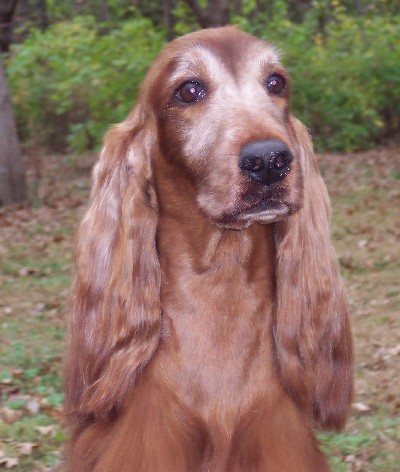 Breezy - 7 years old - November 2011

Breezy - 7 years old - November 2011